The Kindle edition  is at this link:  https://amzn.com/B01G7Q912S.
You can also order it directly from the MediaRites' Amazon store. MediaRites has agreed to distribute Dmae's book free of charge. It's $13 plus shipping at this link: https://amzn.com/1522998950
The book is appropriate for ages 14 to adult. And please consider sharing your review on Kindle and Amazon!
Available from Dmae  directory for $15 including shipping via media mail. All orders will go out within two business days. 



The Letting Go Trilogies: Stories of a Mixed-Race Family traces four decades of what it means to be a mixed-race adult who sometimes called herself "Secret Asian Woman." With her personal essays written over a ten-year period, Dmae Roberts journeys through biracial identity, Taiwan, sci-fi, and the trials of her interracial Taiwanese and Oklahoman family amid love, loss and letting go of past regrets and pain.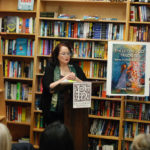 See photos from past reading and book signing events:
Past Events: 
May 20th at 6:30pm at Wilson High School (1151 SW Vermont St, Portland, OR 97219) along with a screening of Mei Mei, A Daughter's Song, 2015 award-winning film for the Best Historical Documentary from the Oregon Independent Film Festival.
May 23rd at 7:00pm at Broadway Books (1714 NE Broadway St, Portland, OR 97232) for the official launch of Roberts' book.
July 19th at 7pm at Rose Schnitzer Manor for their Lifelong Learning Lecture Series, "Live Your Art.
Sept 1st at 7pm at Another Read Through bookstore, 3932 N Mississippi Ave, Portland, Oregon 97227 (anotherreadthrough.com). Dmae will give a preview of her Oregon Humanities Conversation Project topic and feature a reading from her book with: "What Are You?" A Mixed-Race Reading & Conversation."
Stay tuned for future events!
Educators can receive a discount on multiple copies. Appropriate for high school and college ethnic studies courses. Email: lettinggotrilogies@gmail.com.
10 to 19 copies — 10% Discount
20 to 29 copies — 20% Discount
30 to 39 copies — 30% Discount
40 or more copies — 40% Discount
Praise for The Letting Go Trilogies:
"These bravely and beautifully written essays tell the story of an artist's coming-of-age and a daughter coming to terms with her grief. This impassioned collection is all guts and heart and ultimately grace."Heidi W. Durrow, New York Times best-selling author of The Girl Who Fell From the Sky (Algonquin Books)
"When you're the living, breathing, confluence of two cultures, your search for self-identity is perpetual. These profound essays are a medley on what it's like to live on that seismic fault line. This book spoke to my heart." Jamie Ford, New York Times best-selling author of Hotel on the Corner of Bitter and Sweet and Songs of Willow Frost
"The magnet does not grow weary, and family ties still tug, even when we have to let go if we are to live our singular lives. Your own search for how to fi nd balance between family devotion and the oxygen required for independence will find insight in these essays by Dmae Roberts—essays born of long thinking by a gifted writer who has turned her power to document the lives of others to her own deep story." Kim Stafford, author of 100 Tricks Every Boy Can Do: How My Brother Disappeared (Trinity University Press)
Excerpt – Introduction from The Letting Go Trilogies:
More than one event stopped the pain I felt over losing my parents. I realized while stir-frying the way my mom taught me or studying my dad's photo as a young man in brave military dress I no longer felt the unbearable weight of their departure from this world. It was as if the hand clenched tightly on my heart released from me like a rocket finally cleared for launch after years of waiting. I could be free to explore, to fly, and see the stars, no longer tethered to an earthbound morass of memory.
My life and my brother Jack's life were shaped by the simple fact my parents got married. I have devoted much of my work exploring that reality and its impact on me as a 1.5 generation, immigrant mixed-race Asian American who often sees several sides to a story. I'm always left with more questions than answers. Those questions I've shaped into radio documentaries, stage plays and personal essays.
There are many things I still have to let go, like those unhealthy pounds and emotions. I just don't beat up on myself as much, and it's better.
Acceptance of the fact I'm an imperfect damaged product of a dysfunctional family, which did the best it could under the circumstances; this is what The Letting Go Trilogies mean to me. I accept my life, my pain, my anger and regret. I light it afire like the thin jīnzhǐ (Joss) funeral papers resembling red and gold money used in Asia to honor the dead and provide for their afterlife. I light it and watch it fly high up into the hazy heavens wafting toward the hands of loved ones who are no longer here.