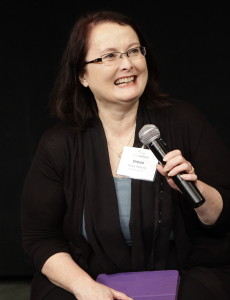 Dmae Roberts is a two-time Peabody award-winning writer and independent media and theatre artist who has written and produced more than 400 audio art pieces and documentaries for NPR and PRI programs. Her Peabody award-winning documentary "Mei Mei, a Daughter's Song" is a harrowing account of her mother's childhood in Taiwan during WWII.  Her  Crossing East, the first Asian American history series on public radio also garnered a Peabody award. The eight-hour series took three years to produce and ran on more than 230 stations around the country. She is now creating the Crossing East Archive Project its 10th anniversary, an online repository of nearly 300 hours of oral history interviews collected for the ground-breaking series.

Roberts has recently completed her memoir book The Letting Go Trilogies: Stories of a Mixed Race Family which traces four decades of what it means to be a mixed-race adult.  Now available for purchase for $12.95 in print  and $3.95 on Kindle. 
About Roberts: Other awards and honors  include: Dr. Suzanne Award for Civil Rights and Social Justice from the Asian American Journalists Association and was one of 50 artists around the country to be selected recently for the 2007 United States Artists (USA) Fellowship, the Peabody, the Robert F. Kennedy Journalism award, the Casey Medal, the United Nations Silver award, two Clarion Awards, two Heart of America awards, and the National Lesbian and Gay Journalists Award. She received an Oregon Book award and two Portland Drama Circle Awards for her theatre work in Portland. As the executive producer of MediaRites, a non-profit organization dedicated to multicultural arts production in radio and educational outreach, she continues her personal mission to create works that bring diverse communities together.