In The Mix
Photo courtesy of Oregon Shakespeare Festival
Mixed Race is the fastest growing minority in America. The arts have opened up new ideas through colorblind casting, fusion in music, visual art, and literature. Just as each racial/ethnic group influences and changes artistic styles and movements, Mixed Race artists help to create fusion and bridges cultural and traditional differences.
In The Mix is a one-hour radio documentary featuring artists of all different disciplines and races. The documentary features Lou Diamond Phillips, Writer Lisa See, Playwright Heather Raffo, Conceptual Artist/Writer damali ayo, Poet Robert Karimi, Musican Phillip Blanchett, Visual Artist Phyllis Fast, Oregon Shakespeare Actor Demetra Pittman and more…visit our website at MixedRaceWorld.org.
Produced by Dmae Roberts
and MediaRites Productions
with funding from the National Endowment for the Arts
the Regional Arts and Culture Council
and listeners like you


Listen to an excerpt featuring Phillip Blanchett, Robert Karimi and Phyllis Fast
---
Coming Home:
The Return of the Alutiiq Masks

Coming Home is a one-hour NPR-news-friendly radio documentary that interweaves oral history interviews, Alutiiq music and soundscapes.
The documentary takes us to Kodiak, Alaska where Alutiiq peoples work to save their language, cultural traditions and heritage by unlocking the secrets of the masks collected by French explorer Alphonse Pinnart in 1872. When he died in 1911, he bequeathed the masks to the Chateau Musee, a small museum off the coast of Northern France. There the collection survived two World Wars and were "rediscovered" by Alutiiq artists who began making pilgrimages to France in 2000 to see the artifacts of their culture. This led to an unprecedented sharing of history between two cultures, two different countries a world apart.
Learn more at DmaeRoberts.comt/cominghome
---
What to call yourself when you don't have a name? That's what Dmae Roberts grappled with most of her adult life. In a country that likes to think it celebrates cultural diversity, race and identity continue to be a complex topic. As Dmae charts four decades of history, we hear from her perspective what it's like to be a "Secret Asian Woman."
Secret Asian Woman is a personal exploration of identity and Mixed Race by Independent Producer Dmae Roberts, who has to make a daily decision to reveal her ethnicity. Through her personal story, Dmae charts four decades of a search by multiracial peoples for a name. The politics of calling out racism has changed through the years as has identification. In this half-hour radio documentary, Dmae talks with other Mixed Race Asian women with identities not easily recognized and addresses with humor the complexities involved in even discussing race.
Read what John Blewen (Center for Documentary Studies) had to say about Secret Asian Woman on PRX.
Produced by Dmae Roberts.
Editorial consultations from Catherine Stifter and damali ayo.
Original music by Clark Salisbury. Additional music by Teresa Enrico and Portland Taiko. Interviews with Velina Hasu Houston, Rainjita Yang Geesler, Julie Thi Underhill and Patti Duncan.
    Funded by the Regional Arts and Culture Council Individual Artist program.
---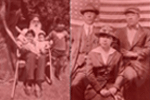 ---
The Story of Ing 'Doc' Hay


"The Story of Ing "Doc" Hay" documentary tells the unusual and significant story of Doc Hay and his business partner and friend Lung On who ran the Kam Wah Chung store and medical practice in a small Eastern Oregon town shortly after the Gold Rush and into the 1950's. Unlike other parts of the country where lynchings and massacres of Chinese immigrants were the norm, these two men were respected members of the community and are still remembered by John Day residents. [ more]
Visit MediaRites online store
---
The Breast Cancer Monologues
A one-hour radio documentary produced by Dmae Roberts and the Breast Cancer Radio Arts Project distributed nationally for Women's History month 2004.
The Breast Cancer Monologues is a one-hour collage of women's stories intricately woven from interviews, readings and dramatizations about how breast cancer has affected the lives of women in America.
The Breast Cancer Monologues was produced by Dmae Roberts and the Breast Cancer Radio Arts Project and is dedicated to the memory of Chu-Yin Roberts. [more]
Visit MediaRites online store
---
Growing Up, Growing Strong
2003
---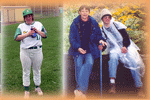 ---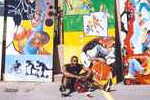 1st Person: Stories of Loss, Hope & Peace
2001
---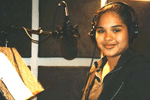 Legacies: Hope, Faith & Peace
1998
---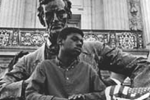 Legacies: Tales from America
1994
---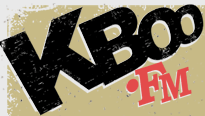 Stage and Studio – 1996 to present
Portlands live half-hour performing arts and media program
---
— Visit CrossingEast.org — Visit MediaRites.org — © 2016 Dmae Roberts