Coming Home: The Return of the Alutiiq Masks

About
Producers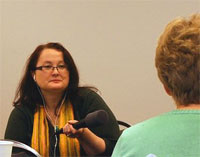 Dmae Roberts is a two-time Peabody award-winning writer and public radio producer living in Portland, OR. She won the USA fellowship and the Asian American Journalists Association's award for civil rights and social justice. She has produced more than 400 documentaries and features for NPR and PRI, including her eight-hour Asian American history series, Crossing East, winner of the Peabody in 2007. She runs MediaRites, a non-profit dedicated to multicultural arts productions. For more info visit dmaeroberts.com, mediarites.org or crossingeast.org.
ABOUT KOAHNIC BROADCAST CORPORATION
Koahnic Broadcast Corporation, the country's leading national Native media enterprises, operates four divisions: KNBA 90.3 FM, the country's only urban, Native public radio station; national radio programming including National Native News, Earthsongs and Native America Calling; and Native Voice One (NV1), the nation's national Native American radio service.
For further information on Koahnic Broadcast Corporation, please visit www.knba.org.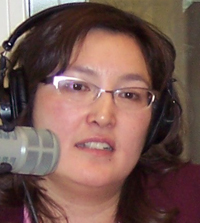 Jaclyn Sallee, President and CEO
aclyn Sallee (Inupiat) has been with Koahnic Broadcast Corporation since its inception in July 1995 and has served as its President and CEO since December 1997. Nearly a decade ago, Ms. Sallee helped found the Indigenous Broadcast Center — now the KBC Training Center — to provide educational opportunities for Native people seeking or pursuing media careers. Ms. Sallee's experience includes service on several community and industry boards and committees including, the Center for Native Public Radio, The CIRI Foundation Board of Directors, Alaska Broadcasters Association Equal Opportunity Committee, University of Alaska-Fairbanks Department of Journalism/
Broadcasting Advisory Board, Native Communications Group and the Steering Committee for the Alaska Native Communications Society.
Shyanne Beatty is Hangwichin Athabascan and grew up in a subsistence lifestyle in Eagle, Alaska where the Yukon River meets the Alaska/Canadian border. Growing up in a remote community radio provided her a connection to the rest of the state. That influence as well as being a singer was a natural match for a career in radio.
Shyanne began that career in 1999 as a Production Assistant fellow for Koahnic Broadcast Corporation. As a fellow she worked as production assistant for the call-in program Friday Wellness Edition. She also worked on Native Word of the Day, Stories of Our People and produced various feature stories. After leaving Koahnic she headed to Seattle, Washington to pursue an education in audio production and graduated from the Art Institute of Seattle with an Associate of Arts Degree.
She rejoined the Koahnic family as a media instructor and traveled to rural areas of Alaska with the goal to introduce possible careers in radio broadcasting to Alaskan Natives and American Indians. Shyanne also blended a daily four hour music show on 90.3 KNBA when she wasn't traveling. She now focuses her time on the daily music show as well as hosting and producing Earthsongs.
Producer/engineer Clark Salisbury's work over the past 20-plus years has included public radio programs, music libraries, musical artist recording and production and web design. Highlights include the award-winning PBS documentary Kids In Crisis – Robert's Story, Wisdom of the Elders radio, the Flash-based Refugee Dreams Revisited and the Peabody-award winning series Crossing East. He is owner/operator of BobbleheadMusic. His technical articles have appeared in Electronic Musician and Keyboard magazine, among others. Salisbury is an accomplished guitarist and electronic musician and has performed with a varitey of ensembles in his hometown of Portland, Oregon, and throughout the US.
About Earthsongs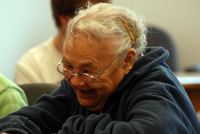 Phyllis Peterson of Kodiak
Photo by Richard Jensen
Earthsongs is an eclectic mix of Indigenous music produced weekly in the Koahnic studios in Anchorage, Alaska. It is distributed nationally via Native Voice One satellite distribution service and has become the primary showcase for contemporary Native American and Indigenous music. The program, which is broadcast weekly by public radio stations across 19 states and streamed online, is designed to demonstrate the incredible musical talent flourishing in today's Native communities, and to increase the "Native voice" through the arts. Each hour-long Earthsongs program includes a live interview of a featured artist with Host Shyanne Beatty. Artists featured on Earthsongs include many contemporary Indigenous artists, such as Robert Mirabal, Joanne Shenandoah, Pamyua and Arigon Starr. Beatty also emphasizes the importance of showcasing newer, emergent music selections and Native artists, such as the Canadian First Nations group M'Girl, Grammy-nominated Lumbee artist Jana, and the young Navajo punk rock group Blackfire. Having been raised in the traditional subsistence lifestyle of her Hangwichin Athabascan tribe in Eagle, AK, Beatty has developed relationships with many "grass roots," or underground Native artists who represent the future of Native music and its impact on contemporary sound.
For further information on Earthsongs, please visit www.earthsongs.net. earthsongs.net • kohanic broadcast corporation • dmaeroberts.com
©2008 Koahnic Broadcast Corporation • web design by Clark Salisbury